Photon Hypernova has more beautiful designs, and here we list the best ones.
After Darkwing Blast, Photon Hypernova is the 11th Core Booster in series 11 for both the OCG and TCG. There are more than 100 cards in this set that help more than 30 other sets. Some examples are Abyss Actor, Chaos, Despia, and a new Kuriboh card. This set also adds the Gold Pride archetype to the game.
With so many different styles, it's hard to say which art is the best, but when you see cards like The Abyss Dragon Swordsoul or Chaos Beast, you can't help but give them the respect they deserve.
Shell Of Chaos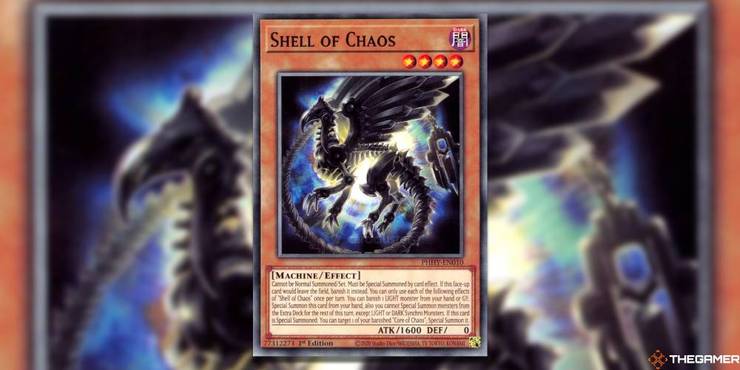 This card has amazing artwork that you wouldn't usually find on a four-star card. We can see the mechanical shell of a structure that looks a bit like a griffin but has no way for it to live. Still, the Core of Chaos is shining brightly in the background, as if it is warning of a terrible end if the two things come together.
Who knows what could come from putting these two things together, but it works well in the art and piques our interest.
Chaos Beast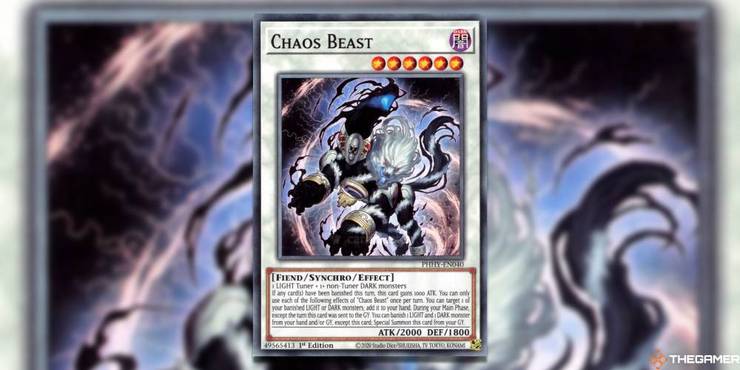 This Photon Hypernova card's art is a great example of a chaotic creature because it shows how light and dark can coexist. We have a shadowy creature that looks like a cold-blooded and reptilian-like monster as one half of the beast, and the other half is a warm-blooded animal with the face of a dog and the mane of a lion.
Also, the combination of the light armor and the necklace with the skull decal is a perfect blend of light and darkness, like yin and yang, good and evil, etc.
The Abyss Dragon Swordsoul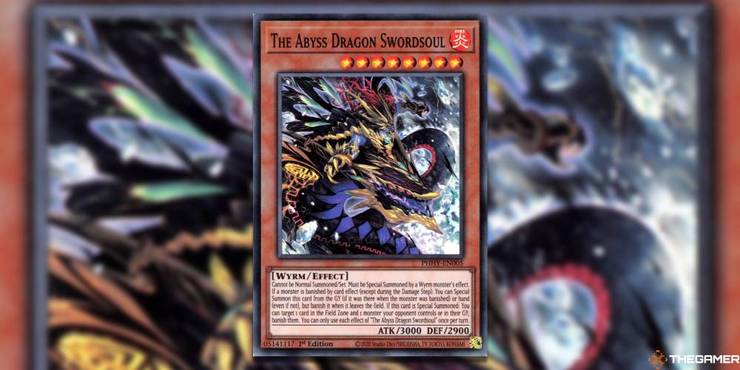 Even though the art on Swordsoul cards was already epic, nothing can compare to how epic this card is. Abyss Dragon has a lot going on. For example, the lower half of the artwork looks like a snake, while the dragon-like creature with many eyes and the large upper body are connected to the other Swordsouls.
This Photon Hypernova card reminds you of what could happen to the hero if they let their darkness take over too much and turn into a bad person or thing in exchange for power.
Kashtira Overlap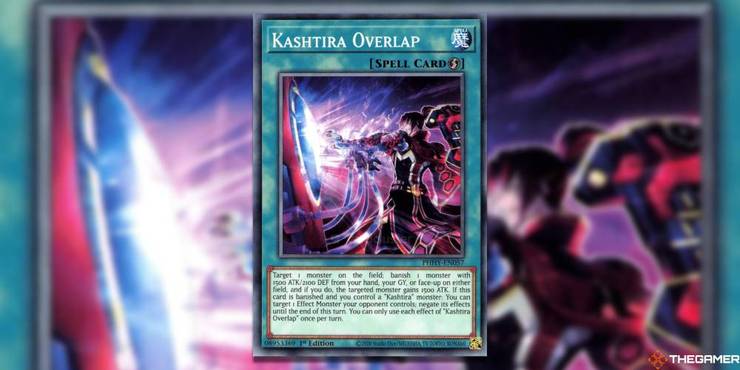 We see Kashtira Riseheart put his hand on what could be called a power generator and turn it on with a happy expression. Still, the purple light coming from the generator makes us worry that something is going wrong.
When you look at this kind of art, you worry about what might happen because you want to know what could happen, but it might lead to something that even Riseheart doesn't want to happen. It's as if you're tapping into a forbidden power that you can't help but explore.
Icejade Gymir Aegirine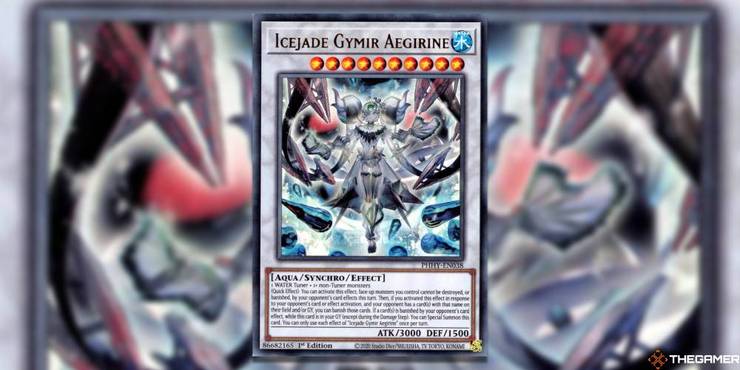 Nothing shouts louder than a cold-hearted woman walking towards you with shards of ice in the air, ready to shoot at you. When you look at Icejade Gymir, you get chills down your spine in 8 Ball Pool.
Still, if you look closely at this water attribute card, you can see a pair of red eyes in the background. This suggests that the woman's face is hiding something even more sinister. She sits in the middle of the card, floating in the air, waiting to attack you. This makes you want to know what happens next in this story.
Light Of The Branded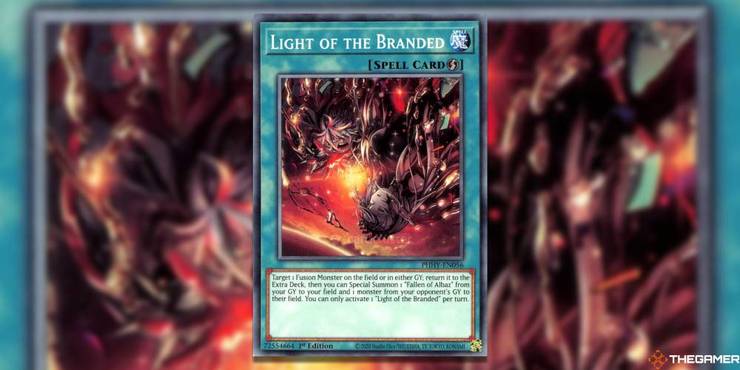 This Photon Hypernova card breaks your heart because it shows two other cards, Fallen of The Albaz, trying their hardest to save Guiding Quem as they fall from the sky into the ocean below. It's beautiful because the scene is so powerful.
The beautiful sunset in the background tells you that the story is coming to an end, leaving you with a great cliffhanger. You want to know how the story ends and if the hero was able to save the heroine. This card is a work of art that makes you want to know what happens at the end of the story for these specific parts.
Number C62: Neo-Galaxy Eyes Prime Photon Dragon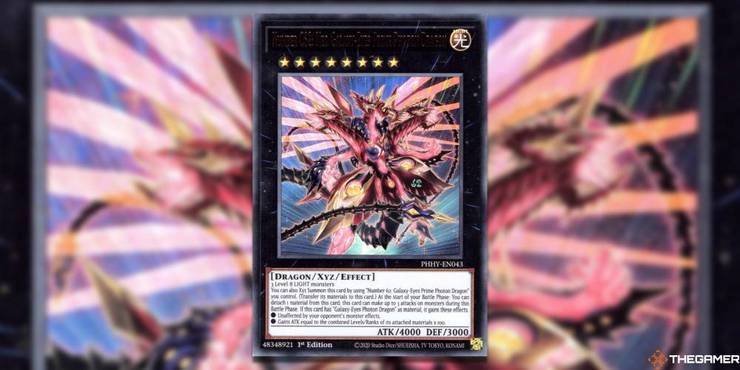 This is a card that screams "ultimate lifeform." Neo-Galaxy Eyes is the coolest and most ultimate dragon because it is an evolved version of the Blue-Eyes White Dragon. This version of the card is even more amazing, with red neon lights shining from every part of its body. It stands in the middle of space, surrounded by many stars, which tells us that it is a very scary being that should be respected.
The dragon's many heads, which look like they are building up power for a powerful attack, make you watch in awe to see what else it can do.
Granguignol The Dusk Dragon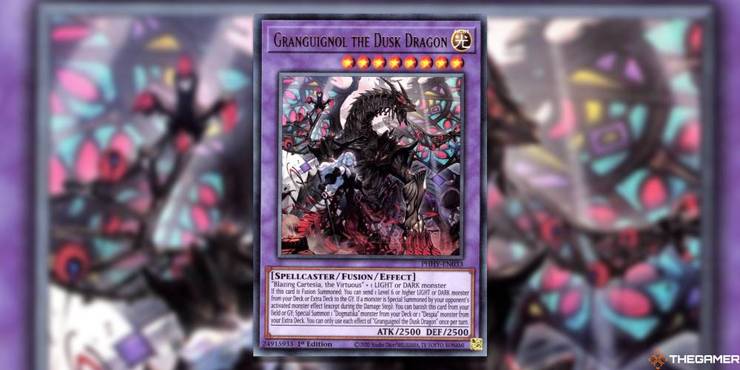 No one would want to stand in front of such a strong pair. Not only is there a woman with porcelain skin holding a demonic sword in her right hand, but she also has a huge dragon with wings that look like stained glass.
It's almost like you've found the secrets of a church, and now you have to pay a terrible price for doing so by meeting these two people. The colors on the card, which include red, purple, black, yellow, and blue, all go well together, making the card's design look beautiful.
Mirrorjade The Iceblade Dragon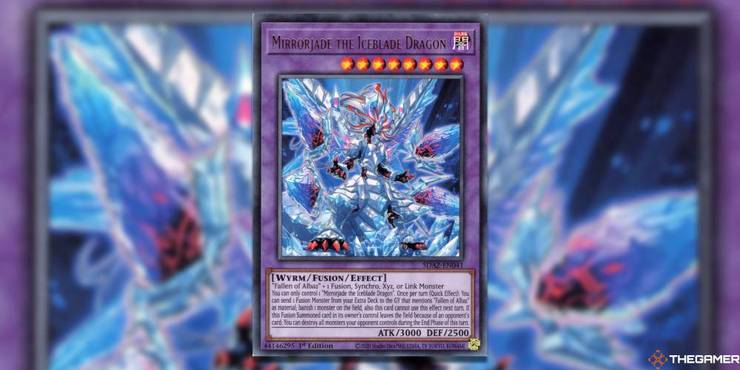 Since Icejade Gymir's eyes are the same color as the eyes of the creature standing behind him, we now have a good idea of what could be making him feel so scared: the beautiful and powerful Iceblade Dragon. This huge creature with a dark attribute has ice armor, and as it stands up, several blades of ice form behind it, ready to fight any threat that dares to stand in its way.
The use of red makes this piece of art even more mesmerizing because it goes with the blue and white that make up most of it. The red makes the piece stand out and gives it a sinister feel.
Kashtira Arise-Heart
Yu-Gi-Oh! is great at making powerful people and creatures that look like robots, but this one is in a league of its own. Arise-Heart stands in front of us with armor that looks like it was made for a shogun. Still, the left arm is covered in blue flames with black spikes that are corrupt and give off bad energy.
But even though the arm gets all the attention, we can't forget that Arise-Heart has a weapon in his right hand and is ready to fight anyone who comes up to him.
Author Bio:
This is Aryan, I am a professional SEO Expert & Write for us technology blog and submit a guest post on different platforms- Technoohub provides a good opportunity for content writers to submit guest posts on our website. We frequently highlight and tend to showcase guests